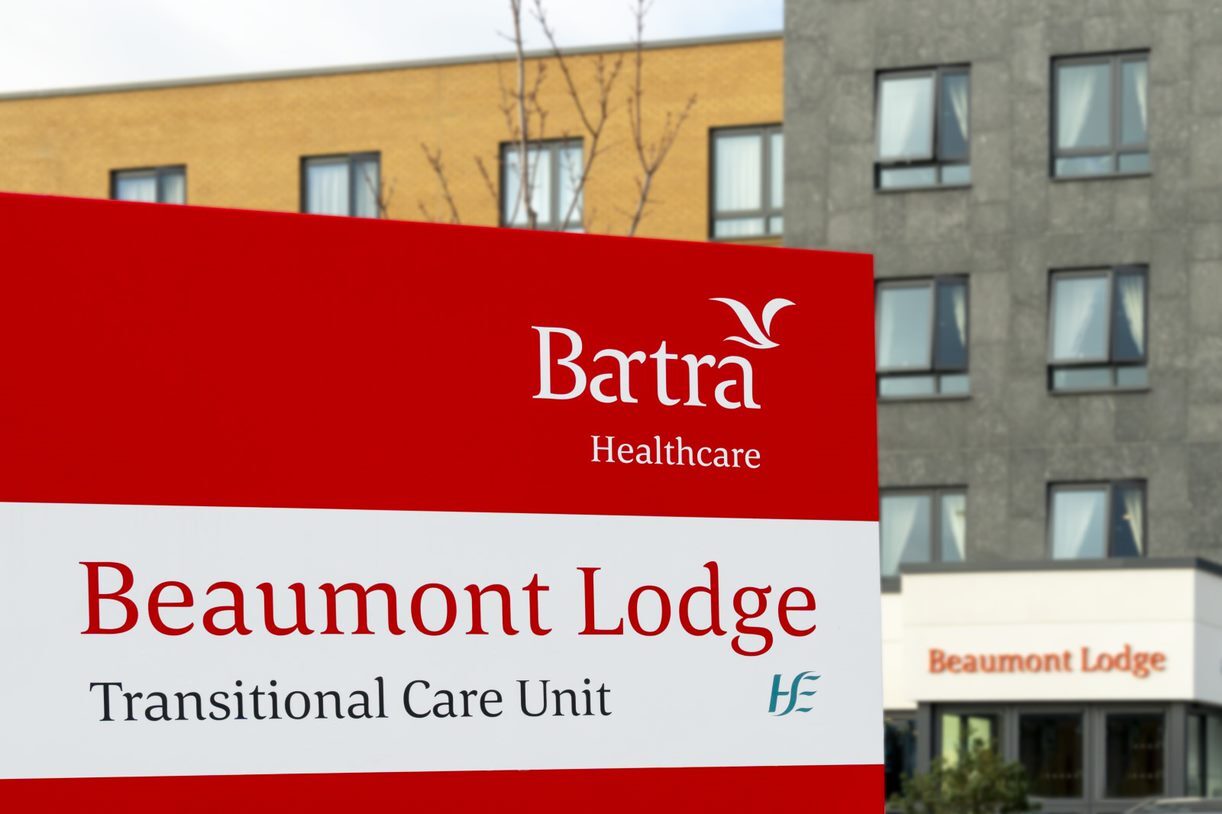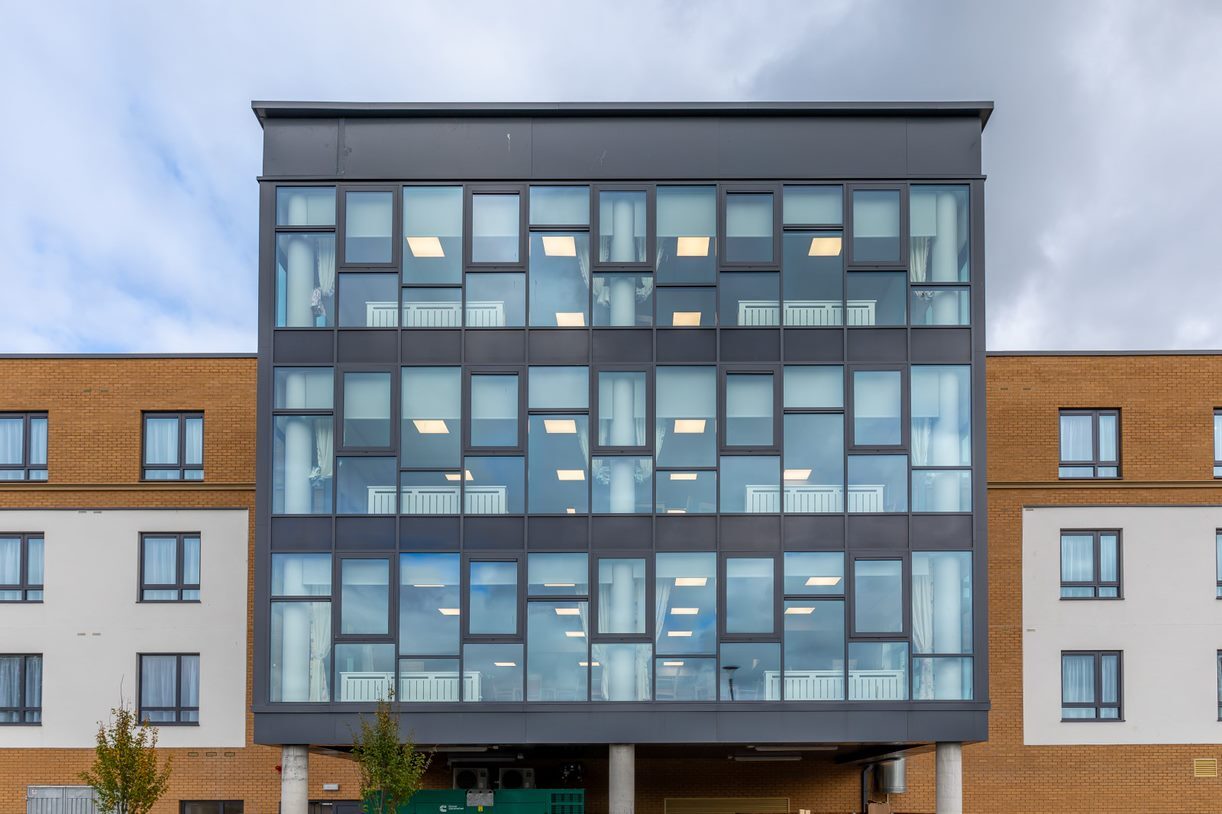 Key Information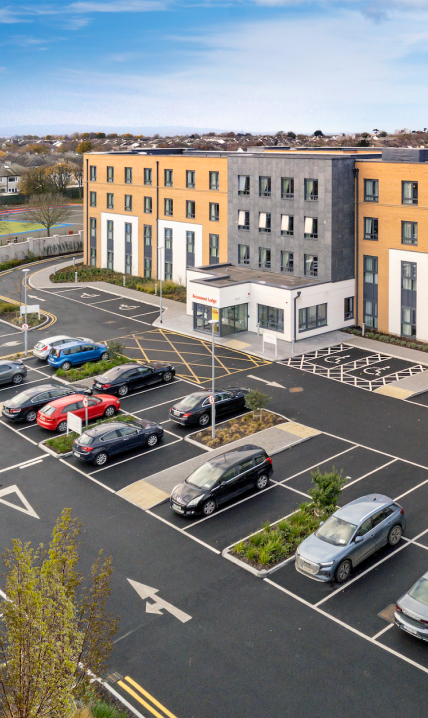 Kilmore Road,
Artane,
Dublin 5,
D05 XO38

*Visitation must be booked in advance.

Visiting hours are 11-12h, 14-15h, 15-16h, 18-19h.

Please call 01 5632190 to book.

Maximum of 2 people per visit.

Children under the age of 12 are not permitted on the floors.

Step-Down Care Unit
An ideal facility for your recovery, restoration and reablement.
Following surgery and treatments for accidents or major illnesses in an acute hospital it is often necessary for patients to spend a further period of recovery before returning home.
Beaumont Lodge is a state of the art step-down care facility specifically designed to provide ongoing medical monitoring, and reablement for patients. Our top-class accommodation provides 221 single occupancy ensuite rooms, with spacious and homely interiors.
We have a dedicated care team working diligently to ensure all our patients are happy and comfortable during their stay with us until they are well enough to transition home or to another healthcare facility.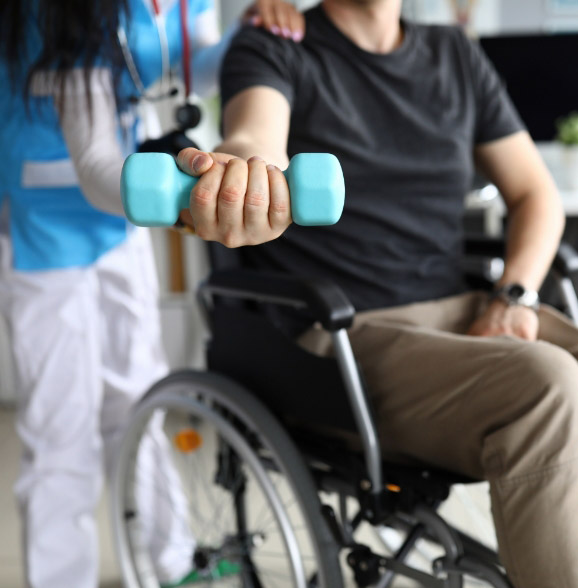 Beaumount Lodge Information Booklet
Download your Beaumont Lodge information booklet today to find out more.
Types of Care
Reablement needs (post stroke, surgery and chronic illness) to regain function and life skills
Promotion of independence based on a multidisciplinary directed SMART bespoke goal setting model
Dementia and complex aged related conditions
Physical disabilities
Obesity and malnutrition
Catheter care, intravenous therapy, VAC dressing, end of life care and specific care for people with low to high dependency levels, high nurse staffing levels
Respite care
Step down care for people awaiting home care packages, long  term care, home care grants etc.
Allied Health Services
Physiotherapy
Close
Read More
The Beaumont Lodge Physiotherapy team of senior and staff grade therapists are supported by a Clinical Manager Physiotherapist. On admission, and as necessary during their stay, all patients shall be reviewed by the Physiotherapist.
All patients identified for Physiotherapy input will have:
A full baseline Physiotherapy assessment conducted to determine holistic needs
Problem Plans
SMART Goal setting
Access to the therapy gym (including but not limited to: parallel bars, weights and exercise equipment, MotoMed, balance mats)
Management of specialist orthotic/equipment as provided by acute care providers
Full comprehensive Musculoskeletal, Neurological and Respiratory assessment and intervention as required
Discharge planning
Attending family meetings as part of the multi-disciplinary team
Physiotherapists shall advises on-going intervention if required following discharge which may include:
Home with community physiotherapy follow-up
Transfer to a Reablement facility
Convalescence
Occupational Therapy
Close
Read More
The Beaumont Lodge Occupational Therapy team of senior and staff grade therapists are supported by a Clinical Manager Occupational Therapist. Our Occupational Therapists screen all new admissions for Occupational Therapy needs to determine the level of intervention required and the onward discharge planning requirements.
Occupational Therapy assessment and intervention includes (but is not limited to) the following:
Full baseline Occupational Therapy Assessment for those identified through the screening process
SMART goal setting
Functional assessment such as washing and dressing assessment and kitchen assessment. These functional activities can be used as modes for therapeutic intervention
Use of group work as a therapeutic intervention
Functional mobility and transfer assessment and practice
Specialist seating assessment and progression of wheelchair transfer and self-propulsion. There is a selection of seating on site for assessment and trial purposes
Use of outcome measure to identify progress in functional status as well as information gathering / social history relating to patient's pre-morbid function, routine and interests.
Assessment of cognition. The Occupational Therapists are certified in the use of the Montreal Cognitive Assessment and the Lowenstein Occupational Therapy Cognitive Assessment (LOCTA-G) is on order
Involvement in discharge planning which includes home environment assessment of equipment and social care needs and completion home discharge visits as indicated
Completion of assessment for appropriate social supports to facilitate function at home and in the community in liaison the Reablement Social Worker
Indirect work in the lines of completion of onward referral such as Community Occupational Therapy referral or signposting patient and families to appropriate services
Attending family meetings as part of the multi-disciplinary team
Falls assessment and provision of appropriate information on falls prevention
Energy conservation advice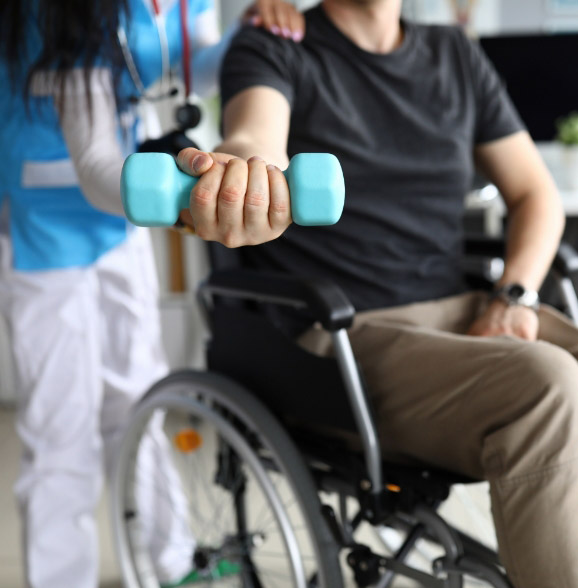 Social Work Team
Close
Read More
The Medical Social work team link closely with their colleagues in the acute hospitals. Their role involves the following:
Completing psychosocial assessments, obtaining collateral, liaising with statutory, voluntary and community resources to assist in care and discharge planning
End of life support and planning
Crisis Intervention
Emotional and Bereavement support
Information and advice service
Lead role to facilitate and assisting patients and families with the long-term care process/ Fair Deal Scheme and liaising with chosen Nursing Homes for assessments and admission.
Provide an advocacy role to receive prioritisation for service delivery, i.e. applying for specific funding and homecare packages.
Key and lead role in discharge planning, particularly for complex cases